Kiyomizu shop OPEN commemoration free studio shooting!
Kiyomizu shop opened in Kyoto Gojozaka from today!
Photographed in underground studio for OPEN memorial Free campaign is in progress!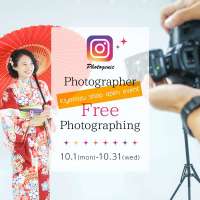 Description: Kimono photo shoot free campaign in the studio (5 pictures)
Period: 2018/10/1 to 2018/10/31
Subject: Customers who got kimono rented at Kyoshigi Shimizu store
Condition: Please post photos taken this time to your SNS # # Kyoshi Shimizu store.
The largest site area in Kyoto!
The biggest kimono in Kyoto!
Space where you can change your clothes comfortably!
Please come in when you come to Kyoto!
You can have a studio shoot free for OPEN memorial!