FAQ about kimono rental Kyoetsu
FAQ about kimono rental
if you have any other questions besides the questions below, please feel free to contact us at any time!
Contact

---
Booking
How to make a reservation?
Online booking must be done the day before visiting.
Discounted price is only for the customers who booked online.
Can I move the booking date, time, and content?
Please contact us at least one day before your booking date.
If I want to cancel, what should I do?
Please call or email one day prior to your reservation date.
Please write the reservation name and store when contacting via email.
Gion shop
TEL: 075-754-8644
Kawaramachi shop
TEL: 075-341-2477
Arashiyama shop
TEL: 075-873-0255
Do you have a cancellation fee?
If you canceled on booking day, the cancellation fee(2500yen) will be charged. If you let us know the day before, nothing happens.
Can I make more than one reservation on the same day just in case I can not arrive on time?
Please do not make a reservation more than you need.
The number of customers for each hour is limited.
If you make a double or triple booking, it would disturb the others' booking process!.
Thank you for your cooperation.
The day I want to book shows ×, what should I do?
× means booking unavailable.
Please choose another day or time. If you have to choose that time, please let us know.
Can you reserve on the day?
We will accept it through call. Please contact us freely.
---
Rental system
Is it possible to rent even in bad weather or on a rainy day?
Rental in bad weather is available.
However, in case of storms,heavy snow or typhoons, rental is unavailable.
Anything I need to prepare?
You don't have to bring anything.
What should I do with my own clothes?
We will keep them for you during rental.
《Rental customers》
Rental customers Free up to one luggage 500 yen from the second luggage.
If there are more than 2 suit cases, a 500 yen fee will occur for each one after the second one.
(Ex.) If 3 suitcases are going to be stored, a fee of 1000yen will occur.
---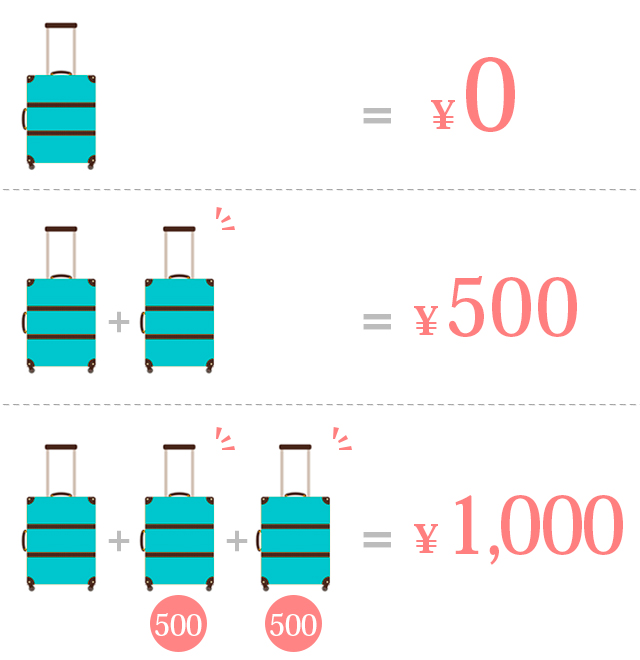 Customers who are not renting 500 yen
---
Payment Method
Please tell me about payment methods.
Cash, credit card (VISA, MasterCard, AMEX, JCB, UnionPay cards, PayPay, Alipay, WeChat Pay) both are available.
When should I pay?
After getting dressed. Please pay before going out.
---
Kimono
What kind of kimono do you have?
Kimono (common), yukata (Jun.1st-Sep.30th), we offer a wide variety such as hakama.
Do you have big size kimono?
e have large size kimono.
Please contact us earlier.
Do you have kimono for children?
Yes.
However, we might not have the size that perfectly fits your children. Please ask us before coming.
What should I prepare for the cold weather?
There are shawls and coat for rental. And we also suggest you wear leggings for warmth.
---
Dressing/ Hair set
This is my first time to wear kimono, will it be all fine? will the size fit me?
Don't worry! We have many professional staffs to dress you well and give some advice to you!
How long does it take to get dressed and get a hair set?
It will take about 30 minutes.
Considering the time that you pick Kimono, it would take more!.
*During high season, you might need more time.
*There is no hair set for male.
Can I bring my own kimono?
Regular kimono and yukata with very plain patterns are available.
Charge is 2000yen+tax.
If you would like to bring other types of kimono besides them, please ask us in advance.
'Is it possible for large number of group?
Depends on the numbers, please contact us first.
Can I rent during pregnancy?
Sorry.
Pregnant person cannot rent kimono for the danger of miscarriage. Basically Kimono is very tight dress, so we thighten stomache when we have to get you dressed.
---
During rental
Can I leave my stuff at your shop?
Yes. We can keep your luggage during rental.
Returning
What time should I return kimono?
Returning on the day
Gion shop 17:00
Kawaramachi shop 17:00
Arashiyama shop 17:00
You must pay late fee if you are late.
Can I return kimono the next day?
Is delivery returning service available?
Returning next day service
Return time: 5 p.m. the next day
Fee: 1000yen+tax
Delivery returning service
Fee; 2000yen+tax
What if I accidentally stained kimono?
We will charge the cleaning fee or repair cost of your kimono.
If you are worry about you will make your kimono dirty inadvertently, you can add our "NO WORRIES" option in case.(300yen+tax)(※Sigarette burn hole, lost your kimono,or getting your kimono too dirty, any case that make your kimono irreparable we will charge the kimono price. )
If you want to know more details, please ask our staff when you come to our shop.
---
Shop's information
When do you usually close? Do you have any regular holidays?
We open all week long.
Where is the most closest station to each shops?
[Gion shop]
12 min walk from Keihan Gion Shijo station
15 min walk from Hankyu Kawaramachi station.
3 min walk from Kyoto City Bus Stops Higashiyama-Yasui or Kiyomizu-michi.
[Kawaramachi shop]
3-minutes walk from Hankyu Kyoto Main Line "Kawaramachi Station"
5-minutes walk from Keihan "Gion Shijo"Station
3-minutes walk from Kyoto City bus stop "Shijo Kawaramachi"
[Arashiyama shop]
1-minute walk from Randen "Arashiyama" Station exit 1
7-minutes walk from JR"Saga Arashiyama" Station South exit
7-minutes walk from JR "Torokko Saga" Station
Please refer to the "map and store information" for more information.
Is there any parking lot?
There are public parking lots nearby.
Please check map information of each shops to get more information.
---
Others
Lost and found
Any left will be kept for one week.
---