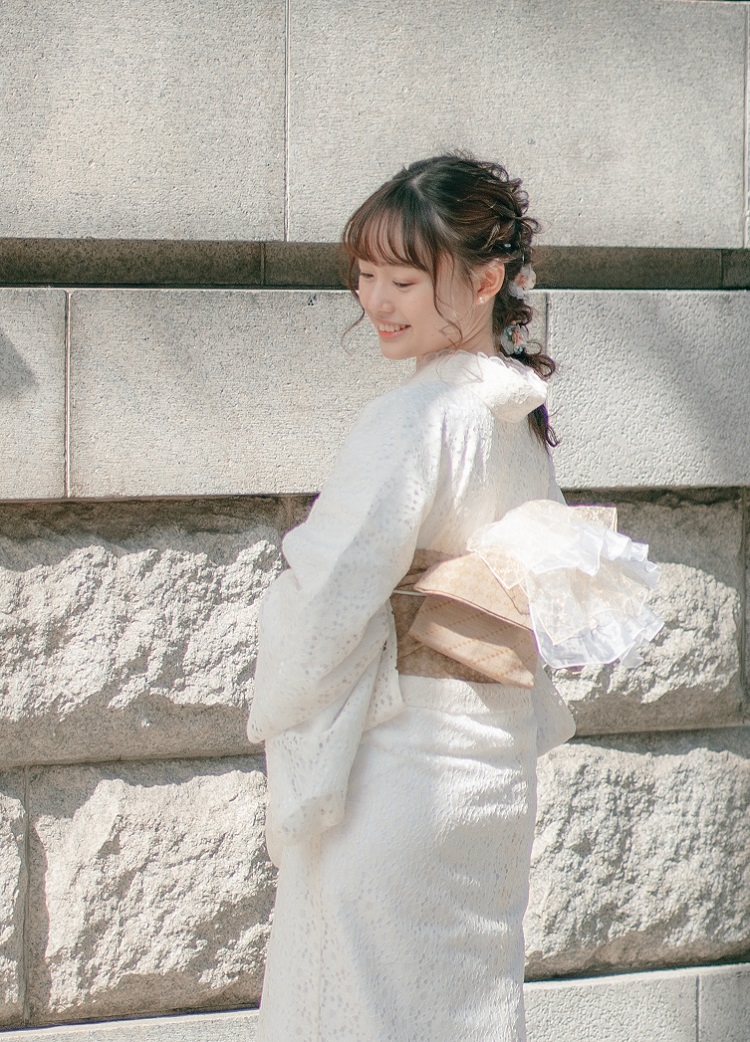 Come find the perfect kimono for you
List of Plans
Antique Kimono Plan

4,500 Yen

(4,950Yen including tax)

Lace Kimono and Yukata Plan

4,500 Yen

(4,950Yen including tax)

Kirameki Plan (Sparkle)

4,500 Yen

(4,950Yen including tax)

Tokimeki Plan (Thrill)

3,900 Yen

(4,290Yen including tax)

Hitotoki Plan (Moment)

2,900 Yen

(3,190Yen including tax)

Student Plan (Junior High and High School Students)

2,900 Yen

(3,190Yen including tax)

Couple Plan

8,000 Yen

(8,800Yen including tax)

Hakama Plan

6,900 Yen

(7,590Yen including tax)

Men's Plan

3,900 Yen

(4,290Yen including tax)

Children's Plan

3,900 Yen

(4,290Yen including tax)

Summer Kimono Plan

4,500 Yen

(4,950Yen including tax)
BYO Plan

From 2,900 Yen

(From 3,190Yen including tax)

Group Plan

Please contact us for rates.
Hairdressing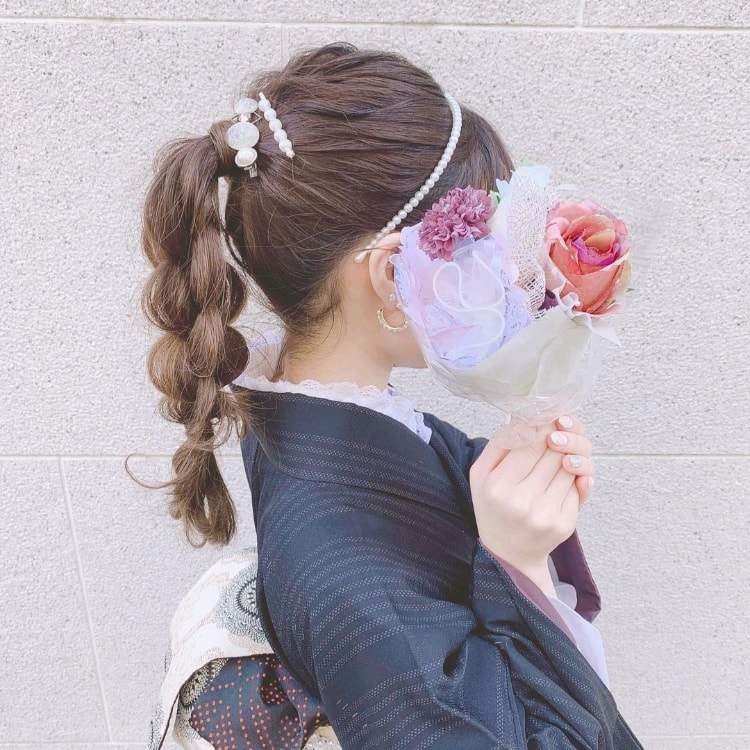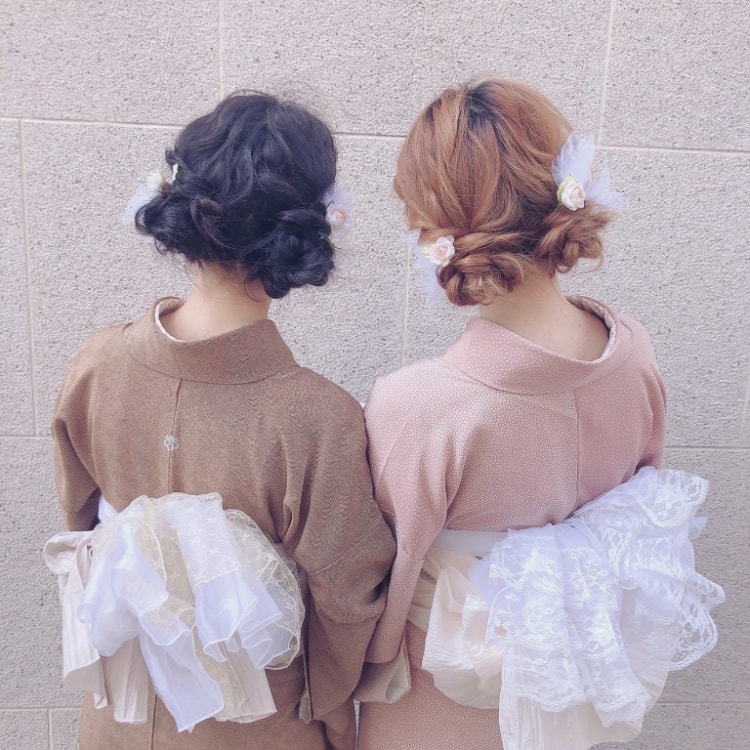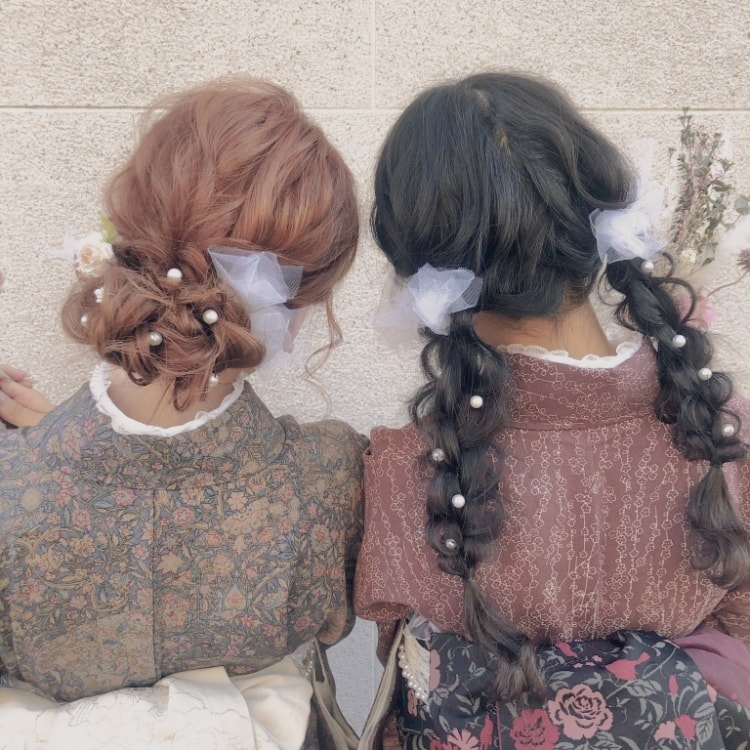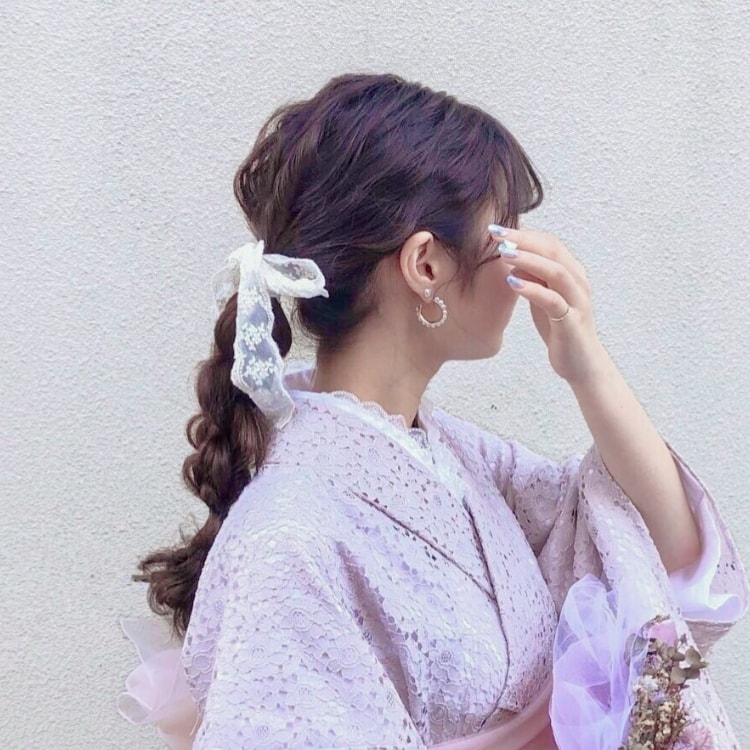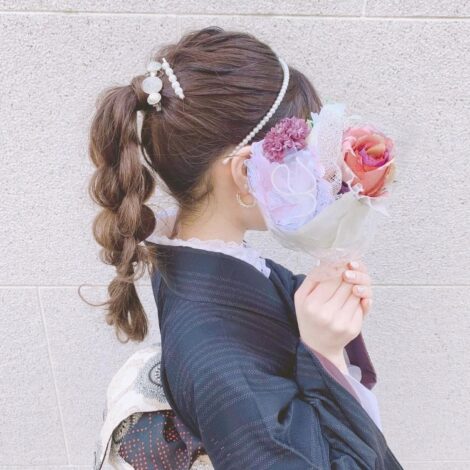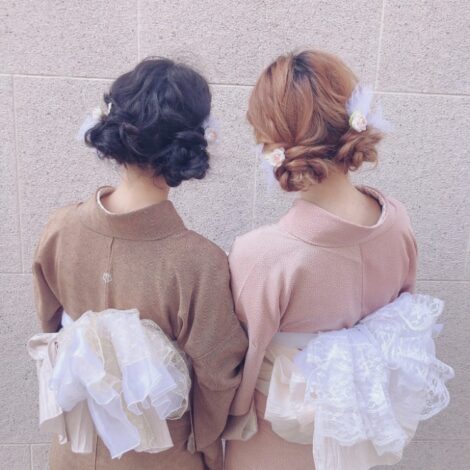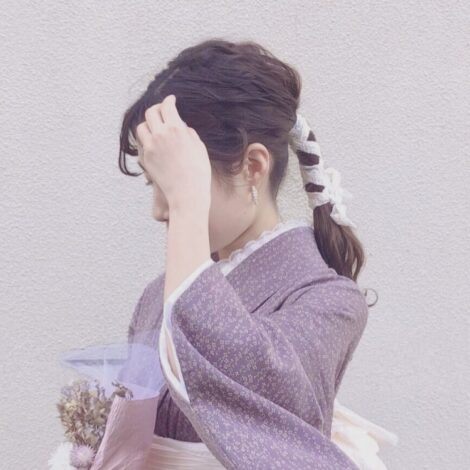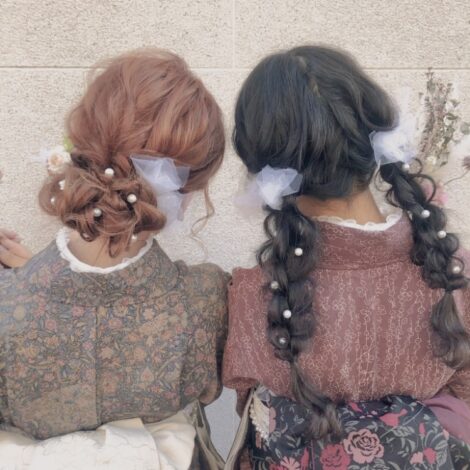 We offer hair styling that matches your kimono or yukata.
For that special memory, why not include the perfect hair style as well?
Enjoy a full makeover to make you beautiful from head to toe.
No reservation is required at Kyoetsu for standard or retro look hairstyling.
Just speak to our staff if you are interested on the day of your rental plan reservation.
Additional hair styling includes free unlimited use of many of our hair accessories as well. (Some accessories are also available for an additional fee.)
Standard hair styling
No reservation
required 1,000 Yen
(1,100Yen including tax)
Select your hair style of choice from the catalog.
For those with short or bobbed hair, we offer options such as cute braiding or cool and mature side hair arrangements.
Our experienced staff will help you create a stylish look that goes perfectly with your kimono.
Retro look hair styling 
No reservation
required 1,500 Yen
(1,650Yen including tax)
Popular loose and fluffy styles
We offer a wide variety of hairstyles, such as the popular bubble braids, buns, or braided ponytails.
Those who purchase hairstyling also receive unlimited free use of our hair ornaments and popular cocktail hats as a bonus that normally cost extra!
You are sure to be the cutest person around with one of our popular hairstyles and as many accessories as you like.
Other hair styling options
Reservation
required From 3,000 Yen
(From 3,300Yen including tax)
We can style your hair any way you like.
Make an appointment in advance and bring a photograph or picture of the hairstyle you want on the day.
Our experienced hairdressers will help you create the hairstyle you want.
Option
Hair ornaments (free for those who request hair styling)

500 Yen
(550Yen including tax)

Headbands and ribbons

300 Yen
(330Yen including tax)

Hats

500 Yen
(550Yen including tax)
If you request hair styling, it includes free unlimited use of hair accessories as well.
Those who request the retro look hair styling also have unlimited use of a wider range of accessories, including hairbands, ribbons, and hats.
List of Stores
Kiyomizu Branch 4-190-3 Kiyomizu, Higashiyama-ku, Kyoto,605-0862, Japan

The largest selection of products in the Kiyomizu area. Excellent access to major sightseeing areas♪

Three minute walk from city bus Gojozaka.
Ten minute walk to Keihan Kiyomizu Gojo Station.

Kawaramachi Branch 456-25 Tenma-cho, Shimogyo-ku, Kyoto, 600-8024, Japan

This store is located in Shijo Kawaramachi, one of Kyoto's most bustling entertainment districts, and has great access to the nearby train station!

Three minute walk from Hankyu Kyoto Kawaramachi Station.
Five minute walk from Keihan Gion Shijo Station.
Located on the banks of the Takase River and just a short walk to Kamogawa River.

Arashiyama Branch 6-1 Saga-Tenryuji Tsukurimichi-cho, Ukyo-ku, Kyoto, 616-8384, Japan

Close to famous tourist destinations with great access to public transportation.

Located right in front of Kimono Forest.
Four minute walk to Togetsukyo Bridge.
A short walk from Randen Arashiyama Station.
Seven minute walk from JR Saga Arashiyama Station.
Our commitment
Point Overwhelming variety!
You are sure to find a kimono perfect for your tastes.

Kyoetsu offers a collection of over 30,000 rental kimonos, including our popular antique and lace kimonos.
We constantly select new designs to keep up with changing trends, and offer choices for a wide range of sensibilities, from our Kyoetsu original dusty colors, to traditional classics, and even highly unique designs.
We're sure that you will find just the right kimono for you.
You may even have trouble deciding from among all our attractive options.

Point Even our accessories have been carefully selected for the maximum cuteness!
Have fun mixing and matching!

At Kyoetsu, you are free to choose any Obi (sashes) and Obi ornaments you like!
From traditional classics to loose and fluffy sashes decorated in pearl or lace, choose your favorite from our careful selection of the cutest.
Enjoy your own original arrangement that embody the perfect definition of cute.
You'll have so much fun, you might have trouble making up your mind!

Point We are confident about our hair styling sensibilities.
We make sure you look great from the side and back as well!

At Kyoetsu, we offer attractive hairstyles that go perfectly with your kimono.
From loose and fluffy hair to neat updo styles, we make your wishes a reality.
We also offer short hair styling services.
Our reliable and skilled staff create the perfect look for each customer.
We make sure you look great from behind as well with pearl and lace hair accessories.
You're sure to look better than your best, and we hope you don't have a hard time fending off photographers!

Point We put special effort into dressing you in your kimono!
Don't just wear it, wear it beautifully!

At Kyoetsu, our highly skilled and experienced staff will dress you in your kimono perfectly.
It's not enough to just wear the kimono, we ensure that your kimono holds its shape beautifully and remains comfortable for an enjoyable experience start to finish.
Kimonos are not meant to be restricting, they are meant to be both beautiful and fun!
The natural feeling to pull yourself straight when wearing one will surely be addictive.

Point We offer our customers wonderful memories.
The best possible hospitality down to the last moment.

At Kyoetsu, we place the utmost importance on making our customers feel comfortable.
Please feel free to consult with our staff about anything on your mind, from help with coordinating your outfit to any concerns you may have.
Our staff will be happy to do anything they can so that you may head out on the town with a smile on your face.
You'll feel feel so comfortable that you won't want to leave!
How to rent a kimono
Step Reservations

Reservations can be made via our website.
Please click the "Reserve Now" button.

Same-day reservations can be made by phone, so please contact the store of your choice directly.

*We recommend that you make reservations in advance, as reservations quickly become fully booked during the tourist season.

Step Visit, Check-in

Please visit the store where you made your reservation.
(Please be sure to be on time for your appointment.)

When you arrive, we will take you to the reception desk to confirm your name and reservation details.
If you need to change your reserved plan or return method, please let us know at reception.

Step Selecting the kimono or yukata and accessories

Our staff will explain which kimonos and yukatas are available under your plan, after which you can select the one that matches your tastes.
After selecting your kimono or yukata, you may select the Obi (sash), Obi decorations, and other accessories.

Feel free to ask our staff if you are unsure of the best combination. We will be happy to arrange the perfect combination to meet your tastes.

Step Wearing and hair styling

Our experienced kimono dressing staff will help you dress kimono beautifully without feeling constricted, while keeping its shape.
If you also request hair styling, you may select the hair style of your choice from our catalog.
Our hair dressers will style your hair perfectly to match your outfit.

*Please be aware that we cannot change your kimono or accessories after we finish dressing you, or change your hairstyle after it has been styled.

Step Baggage keep

Transfer any personal items you need to the rental handbag, and we will hold onto any other baggage and belongings for you.
(Please leave your large items such as luggage at the reception.)

*Please note that we cannot store valuables such as your wallet or keys, or delicate equipment such as cameras.Please take those items with you when you go out.

Step Payment and going out

After the above steps it will be time to pay the fee.
You will be provided with a bill listing the selected plan and options which you may hand to the staff at the register.

We accept cash, credit card, and PayPay payments.

Once you've paid your bill, you're off to explore Kyoto!

Step Return

Please arrive back at the store you used before the agreed time to return the rented items.
(Please note that during the tourist season, it may take longer to travel by local bus and taxi than normal.)
Be sure not to leave any valuables behind after changing out of the kimono.
We look forward to serving you again soon!
Why choose Kyoetsu?
Our overwhelming selection
The largest variety of kimonos in Kyoto!

Kyoetsu's greatest pride is the variety and quantity of our kimonos!
We offer a selection of over 30,000 kimono and yukata, including antique and lace kimono.
Our selection is the greatest in Kyoto, ranging from affordable and reasonable rental options to the ultimate in pure silk kimonos.
Our designs cover every mood including retro, chic, modern, classic, loose and fluffy, mature cute, mature beautiful, and many others.
You are sure to find just the kimono that matches your imagination.

We offer some of the lowest rental prices in Kyoto

At Kyoetsu, our kimono and yukata rentals start at only 2,900 Yen (3,190 Yen including tax)!
Here you can find kimono and yukata rentals at reasonable prices!
The secret to our low prices is that our shops are owned by the kimono manufacturer in Kyoto boasting the top online sales in Japan.
And our quality and skill is unparalleled even at these low prices! Our expert staff will dress you to perfection.
We offer cute hairstyles that will photograph beautifully starting at only 1,000 Yen (1,100 Yen including tax.)

Ideal locations for sightseeing in Kyoto

Our locations are perfect for sightseeing or checking out Kyoto's stylish cafes! We offer excellent access to famous sightseeing spots such as Kiyomizu-dera Temple, Yasaka Koshindo, Yasaka-jinja Shrine, Fushimi Inari-taisha Shrine, Keage Incline, Hanamikoji Street, and the Arashiyama Bamboo Forest, as well as central Kyoto.
We have stores located in the Shijo-Kawaramachi area of central Kyoto, and Arashiyama, Kiyomizu areas as very popular for tourist.
Our stores are conveniently located within a three minute walk from the nearest station and bus stop.

Choose your payment method
No advance payments or deposits required.

At Kyoetsu, you can pay by cash, credit card, or PayPay.
There is no need for any troublesome advance payment or deposit!
Checkout is done in person at the store on the day of your reservation for greatest convenience and assurance.

Just one minute to reserve
You can choose your plan later.

Easy online reservations 24 hours a day
To make a reservation, just select the plan you want! Options may be selected at the store on the day of your reservation, so you do not need to choose them to reserve.
You may also change your plan on the day you arrive, so there is no need to stick to the plan you originally reserve.
Cancellations and schedule changes are free of charge up to the day before your reservation.

Come as you are!
Enjoy a rental kimono on a whim!

Our rental plans include everything you need, so come as you are!
We can also store your baggage and belongings for free. Suitcase storage is of course also included free of charge!
Rent right away any time you feel in the mood to wear a kimono.
We accept same-day reservations with just a phone call, so feel free to contact us.
*We recommend that you make web reservations in advance, as reservations quickly become fully booked during the tourist season.